Chemical Surface Characterization: What's on My Surface and Should I Care?
This week, Covalent Academy will launch its next webinar miniseries on Surface Chemical Analysis!
For the first episode in the series, we are welcoming back Dr. Chris Moore as our speaker. His talk will branch from our previously covered surface roughness series into chemical analysis, introducing the tools and techniques we use to identify and characterize surface contaminants.
The event, Chemical Surface Characterization: What's on my surface and should I care?, will be aired live at 11am PDT on May 28th.
Contamination of surfaces can lead to everything from premature mechanical failure of a part, through delamination issues in films and coatings, to total inactivation of chemical and biological sensors. At the same time, not all material deposited on a surface will pose such risk factors. How can we identify what is, and isn't, 'real' contamination?
This webinar will answer that question, and will introduce techniques used in surface chemical analysis to identify real and benign contamination. We will also discuss common problems seen in both data analysis and collection. We welcome viewers from all backgrounds and levels of expertise to attend.
We will be leaving a portion of the webinar for Q & A with our speaker, Dr. Chris Moore, to tackle any lingering ideas you may have.
All Q & A, as well as the slides for the talk and a recording of the webinar will be made available to attendees after the event through the Covalent Community.
Access in the Portal
About the Speakers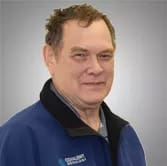 Chris Moore
Dr. Chris Moore has over 30 years of experience in metrology techniques and the development of metrology systems. Originally the VP of Technology for Waterloo Scientific, Chris moved into a technical marketing role and became part of Philips Analytical when WSI was purchased by Phillips. Eventually he became President ad CEO of Phillips Advanced Metrology Systems, Advanced Metrology Systems and finally Semilab USA. After a stint of high technology consulting Chris moved west to join Frontier Semiconductor as VP of Marketing and Sales before joining Covalent as the Vice President of Technology and Operations.
Chris completed his PhD in solid state physics at the University of Waterloo.
About Covalent Metrology
Covalent Metrology is a disruptive analytical services laboratory and platform based in Sunnyvale, California. Its mission is to help companies who use advanced materials to get better data and insights more easily and affordably to facilitate faster development and production. Covalent is dramatically changing the characterization and imaging landscape by combining transparent pricing, data platforms, and top-notch customer service with world-class scientists, state-of-art tools, and strategic partnerships.
Covalent now has over 500 customers in 20+ industries.
Learn more at: https://covalentmetrology.com