Solid Surface Zeta Potential: Industrial Applications, Challenges, and Solutions
We invite you to tune in for Covalent Academy's next installment of our Advancements in Instrumentation webinar mini-series: keeping you up to date with recent metrology innovations, and showing you how to apply new and improved techniques to yield greater insights into your materials.
In this episode Dr. Christine Körner, our esteemed guest expert from Anton Paar, will be talking through the fundamentals of Zeta Potential analysis, and highlighting its industrial benefits to a variety of technological applications.
Solid surface zeta potential is commonly used as a representative metric for surface charge and gives direct information on processes happening at the solid-liquid interface of a material. This interface has critical implications for a variety of sample types; in this episode we will be specifically focused on:
Membrane Technology
The surface charge of a membrane gives direct information on electrostatic interactions between a membrane's surface and compounds in the feed water, which is one cause of membrane fouling. The benefit of the streaming potential method for zeta potential analysis, as presented here, is that membranes can be studied under environmental conditions. It thus allows for visualizing a membrane's behavior in the technical process.
Life Sciences
Did you ever think about how shampoo and conditioner adsorb on your hair fibers? Or how they are washed off? Analysis of the change in zeta potential over time will tell you.
Semiconductor Industry
In the semiconductor industry, surface charge analysis can be applied as a direct tool to monitor wafer cleaning efficiency. It can help to optimize slurry conditions and reduce the efforts in post-CMP cleaning.
THIS WEBINAR WILL ANSWER:
What is zeta potential? How is it related to surface charge?
How do you measure zeta potential? What tools are needed?
What is the industrial significance of this analysis?
Whether you are new to solid surface zeta potential or a critical expert of the technique, this episode will provide a fresh perspective on your solid's surface chemistry.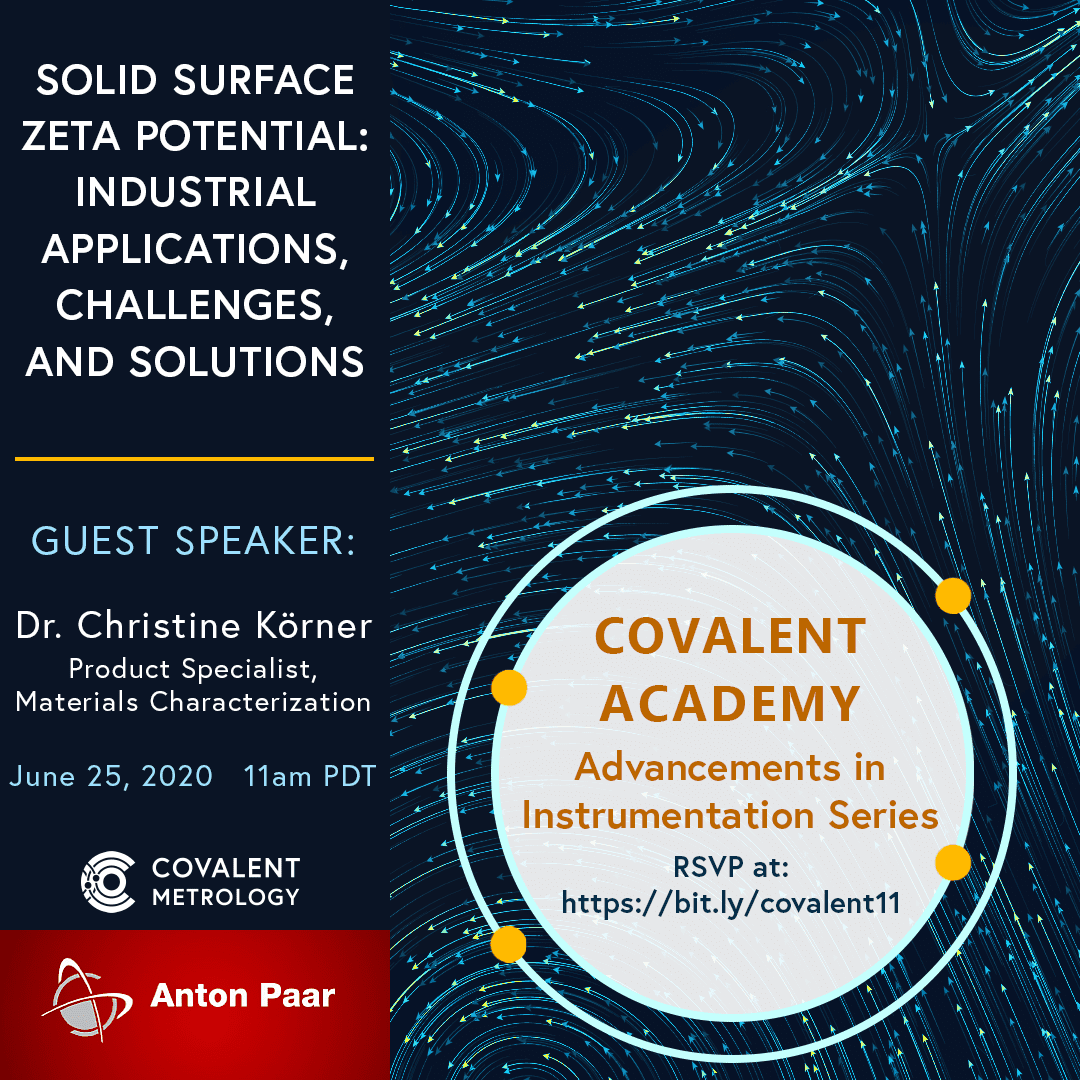 Access in the Portal
About the Speakers
Dr. Christine Korner
Dr. Christine Körner earned a PhD in Physical Chemistry from Graz University of Technology, Austria, before joining Anton Paar in 2011 as a product specialist for material characterization. She has nearly 10 years of experience with zeta potential analysis and is now the international product manager for solid surface charge instrumentation at the Anton Paar headquarters in Austria.
About Covalent Metrology
Covalent Metrology is a disruptive analytical services laboratory and platform based in Sunnyvale, California. Its mission is to help companies who use advanced materials to get better data and insights more easily and affordably to facilitate faster development and production. Covalent is dramatically changing the characterization and imaging landscape by combining transparent pricing, data platforms, and top-notch customer service with world-class scientists, state-of-art tools, and strategic partnerships.
Covalent now has over 500 customers in 20+ industries.
Learn more at: https://covalentmetrology.com