Solving Puzzles Using Metrology: Case Studies in Troubleshooting when (1+1)>2
Engineers trying to optimize their processes and materials in the real world often find the undertaking is fraught with difficulties that can lead down time-leeching expensive dead ends in testing and analysis. Everyone understands that time to market is a key driver of success or failure of any project or product and, in many cases, it can make or break your  company.
In this webinar episode, our  Vice President of Technology, Dr. Chris Moore, will outline effective strategies for identifying the right analysis for your project and so you can extract the most impact from your data. Using two case studies, he'll demonstrate how partnering with the right metrology team can lead to major advantages throughout the troubleshooting process: from experiment design through project resolution.
Join us April 22, 2021 to improve your thinking around characterization challenges and to examine a new approach to accelerated metrology and testing workflows.
This Webinar Will Answer:  
What are common pitfalls that lead engineers into dead-ends with their characterization work? How can these be avoided?
How to strategize the right analysis for a complex metrology problem?
How toextract the right insight from your analysis? How much data is enough?
Access in the Portal
About the Speakers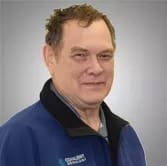 Dr. Chris Moore
Chris has over 40 years of experience in metrology techniques and the development of metrology systems. Originally the VP of Technology for Waterloo Scientific, Chris moved into a technical marketing role and became part of Philips Analytical when WSI was purchased by Phillips. Eventually he became President and CEO of Phillips Advanced Metrology Systems, Advanced Metrology Systems and finally Semilab USA. After a stint of high technology consulting Chris moved west to join Frontier Semiconductor as VP of Marketing and Sales before joining Covalent as the Vice President of Technology and Operations.
Chris has a PhD in solid state physics from the University of Waterloo.
About Covalent Metrology
Covalent Metrology is a disruptive analytical services laboratory and platform based in Sunnyvale, California. Its mission is to help companies who use advanced materials to get better data and insights more easily and affordably to facilitate faster development and production. Covalent is dramatically changing the characterization and imaging landscape by combining transparent pricing, data platforms, and top-notch customer service with world-class scientists, state-of-art tools, and strategic partnerships.
Covalent now has over 500 customers in 20+ industries.
Learn more at: https://covalentmetrology.com