Dr. Chris Moore Delivers X-Ray Diffraction Technical Webinar at NCCAVS TFUG Online Seminar
Covalent X-ray Metrology Expert Dr. Chris Moore presents technical talk at NCCAVS TFUG seminar.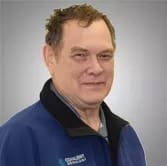 Covalent's Vice President of Technology, Dr. Chris Moore, lent his expertise in X-ray metrology to the
Thin Film User Group
 of the Northern California chapter of AVS (NCCAVS) for their online technical seminar in May, 2020. The meeting explored state-of-art thin-films metrology and characterization applications for semiconductors and related fields.
Dr. Moore's informative talk highlighted the theoretical basis of X-ray diffraction (XRD) measurements, and noted crucial practical considerations for XRD: use of standards, choosing appropriate beam geometries, and pattern fitting of data. He then presented a selection of case studies demonstrating the versatile utility of XRD for thin-films research.
A copy of Dr. Moore's presentation, titled X-Ray Diffraction: From Easy to Hard, is free to download through our Covalent Community. Additionally, slides for the the talk may be accessed online through the NCCAVS TFUG Proceedings record.
Chris has over 30 years of experience in metrology techniques and the development of metrology systems. Originally the VP of Technology for Waterloo Scientific, Chris moved into a technical marketing role and became part of Philips Analytical when WSI was purchased by Phillips. Eventually he became President ad CEO of Phillips Advanced Metrology Systems, Advanced Metrology Systems and finally Semilab USA. After a stint of high technology consulting Chris moved west to join Frontier Semiconductor as VP of Marketing and Sales before joining Covalent as the Vice President of Technology and Operations.
With his generalist metrology background and expertise and significant management and leadership experience, Chris adds significant depth to the Covalent team.
Chris has a PhD in solid state physics from the University of Waterloo.
Covalent Metrology is a disruptive analytical services laboratory and platform based in Sunnyvale, California. Its mission is to help companies who use advanced materials to get better data and insights more easily and affordably to facilitate faster development and production. Covalent is dramatically changing the characterization and imaging landscape by combining transparent pricing, data platforms, and top-notch customer service with world-class scientists, state-of-art tools, and strategic partnerships.
Covalent now has over 500 customers in 20+ industries.