Failure Analysis Services
Click below to download this Datasheet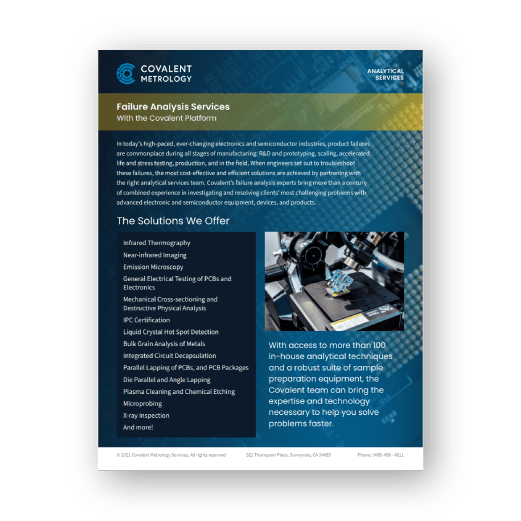 In today's high-paced, ever-changing electronics and semiconductor industries, product failures are commonplace during all stages of manufacturing: R&D and prototyping, scaling, accelerated life and stress testing, production, and in the field. When engineers set out to troubleshoot these failures, the most cost-effective and efficient solutions are achieved by partnering with the right analytical services team. Covalent's failure analysis experts bring more than a century of combined experience in investigating and resolving clients' most challenging problems with advanced electronic and semiconductor equipment, devices, and products.
About Covalent Metrology
Covalent Metrology is a disruptive analytical services laboratory and platform based in Sunnyvale, California. Its mission is to help companies who use advanced materials to get better data and insights more easily and affordably to facilitate faster development and production. Covalent is dramatically changing the characterization and imaging landscape by combining transparent pricing, data platforms, and top-notch customer service with world-class scientists, state-of-art tools, and strategic partnerships.
Covalent now has over 500 customers in 30+ industries.
Learn more at: https://covalentmetrology.com