Measurement of microscopic regions using a high-speed 2-dimensional detector
Evaluation of microscopic regions of carbide tools
Click below to download this Application Note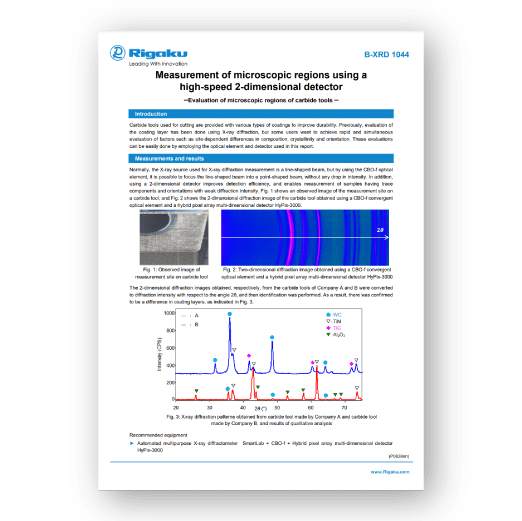 Carbide tools used for cutting are provided with various types of coatings to improve durability. Previously, evaluation of the coating layer has been done using X-ray diffraction, but some users want to achieve rapid and simultaneous evaluation of factors such as site-dependent differences in composition, crystallinity and orientation. These evaluations can be easily done by employing the optical element and detector used in this report.
About Covalent Metrology
Covalent Metrology is a disruptive analytical services laboratory and platform based in Sunnyvale, California. Its mission is to help companies who use advanced materials to get better data and insights more easily and affordably to facilitate faster development and production. Covalent is dramatically changing the characterization and imaging landscape by combining transparent pricing, data platforms, and top-notch customer service with world-class scientists, state-of-art tools, and strategic partnerships.
Covalent now has over 500 customers in 30+ industries.
Learn more at: https://covalentmetrology.com