PVA TePla America and Covalent Metrology Announce Collaboration
PVA TePla America has established an applications lab at Covalent Metrology's Silicon Valley facility. The companies plan to jointly develop advanced non-destructive imaging capabilities.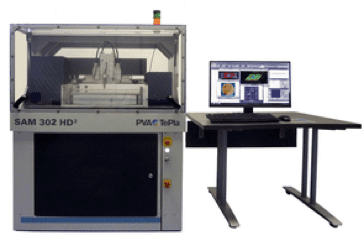 PVA TePla America, a leading equipment manufacturer and supplier of Scanning Acoustic Microscopy (SAM) and Plasma Treatment systems, has signed a cooperative agreement with Covalent Metrology, a leading provider of analytical services to advanced materials innovation companies.
Under the agreement, several advanced Scanning Acoustic Microscopes will be installed at Covalent's Sunnyvale, CA laboratory, and both companies will be offering development and analytical services on the instruments to their respective customers.
SAM utilizes ultrasound waves to non-destructively examine internal structures, interfaces and surfaces of packaged or non-transparent substrates and parts.  The resulting acoustic signatures can be constructed into three-dimensional images which are analyzed to detect and characterize device flaws such as cracks, delamination, inclusions and voids in bonding interfaces, as well as to evaluate soldering and other interface connections.
Bill Marsh, President of PVA TePla America, stated, "Covalent Metrology is developing a team of the very best metrology engineers while combining the best-in-class metrology equipment available in order to provide premier contract services to clients in the heart of Silicon Valley. PVA TePla is pleased to work in collaboration with Covalent's experienced team and hopes that together we can bring new and unique solutions to enable today's most advanced technologies to rapidly enter the market."
Craig Hunter, CEO of Covalent stated, "PVA TePla is a recognized technical leader in acoustic microscopy and we are delighted that they have decided to establish their applications lab at Covalent. Collaboration with leading instrument manufacturers is a great win for everyone involved. Our customers gain convenient access to state-of-the-art capabilities and expertise, and PVA TePla secures a cost-effective, strategic and central location with significant customer traffic."
About PVA TePla
PVA TePla provides material growth, processing and metrology equipment and contract services for companies in Optoelectronics, Semiconductor & Materials, MEMs, Medical Device, Aerospace, Automotive, Defense, and Energy markets. www.pvateplaamerica.com.
PVA TePla America is a subsidiary of PVA TePla AG which is a public company in Germany. The company is an association of diverse high-tech companies that operate worldwide. Founded in 1991 and backed by decades of experience and an eye for the innovations of tomorrow, we develop advanced equipment for vacuum & high-temperature materials treatment, crystal growth, plasma treatment as well as metrology for non-destructive quality material inspections in close cooperation with our customers globally.
Covalent Metrology is a disruptive analytical services laboratory and platform based in Sunnyvale, California. Its mission is to help companies who use advanced materials to get better data and insights more easily and affordably to facilitate faster development and production. Covalent is dramatically changing the characterization and imaging landscape by combining transparent pricing, data platforms, and top-notch customer service with world-class scientists, state-of-art tools, and strategic partnerships.
Covalent now has over 500 customers in 20+ industries.