Application Note: Surface Area Determination of Battery Cathode and Anode Materials
In order to optimize their design efforts, battery developers rely on accurate characterization of the physical properties of the components used in their designs.
Click below to download this Application Note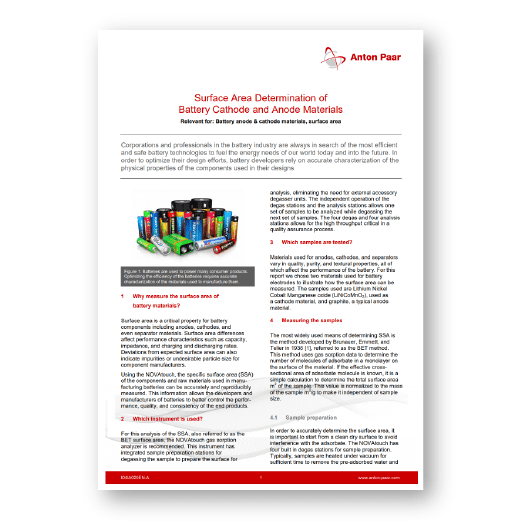 Surface area is a critical property for battery components including anodes, cathodes, and even separator materials. Surface area differences affect performance characteristics such as capacity, impedance, and charging and discharging rates. Deviations from expected surface area can also indicate impurities or undesirable particle size for component manufacturers. Using the NOVAtouch, the specific surface area (SSA) of the components and raw materials used in manufacturing batteries can be accurately and reproducibly measured. This information allows the developers and manufacturers of batteries to better control the performance, quality, and consistency of the end products.
About Anton Paar USA
Anton Paar USA is a subsidiary of the Graz, Austria-based Anton Paar. Anton Paar is the world's premier manufacturer of measuring and analytical instrumentation used by laboratories and manufacturers during both research and development and quality control. Founded in 1922, Anton Paar now has subsidiaries in 31 different countries across the world.
Since the beginning of 2018, Anton Paar USA has expanded its USA operations to include four regional offices, with full sales and laboratory operations now taking place in Torrance, California, Houston, Texas, and Chicago, Illinois, while the main Anton Paar USA headquarters remains in Ashland, Virginia.