3 Scanning Electron Microscopy (SEM) Signals You Need to Know to Optimize Your SEM Analysis
Click below to download this eBrief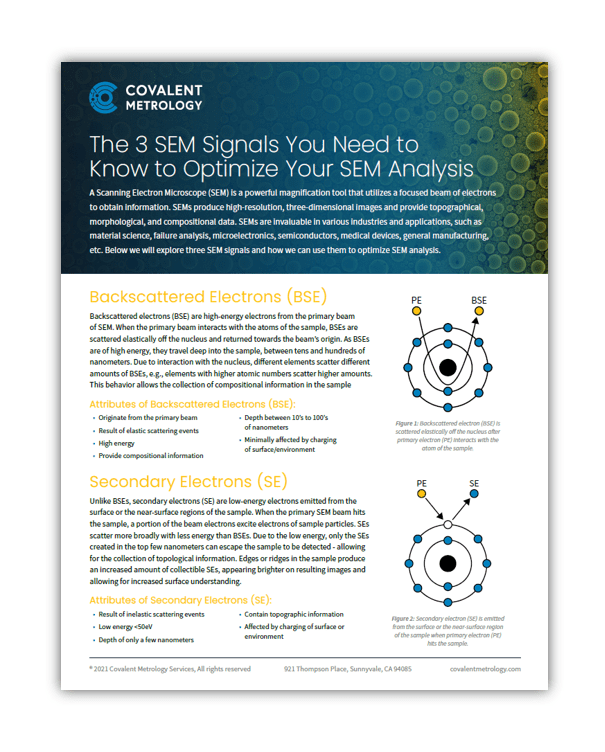 Scanning Electron Microscopes (SEM) are powerful instruments that can produce, collect, and analyze a variety of signals -all of which have different strengths. Understanding and optimizing SEM signals allows researchers to refine their analysis techniques and collect data targeted towards their research goals.
The SEM Analysis team at Covalent Metrology has assembled this datasheet to aid researchers in better understanding and optimizing their SEM signals. In this datasheet, the team touches on the sourcing, strengths, and analysis of backscattered electrons (BSE), secondary electrons (SE), and X-ray emissions and provides considerations for planning an SEM experiment.
Learn More About SEM:
Scanning Electron Microscopy (SEM)
Focused Ion Beam Scanning Electron Microscopy (FIB-SEM)
Read the Blog: The 3 SEM Signals You Need to Know to Optimize Your SEM Analysis
Contact Us for More Information on These Services
SEM Analysis at Covalent Metrology
Covalent Metrology's SEM Analysis team is led by Dr. Naima Hilli, who has worked extensively with advanced Scanning Electron Microscopy (SEM) and Focused Ion Beam (FIB) analysis. Dr. Hilli and her team utilize the cutting-edge instrumentation from Thermo Scientific to deliver high-quality SEM data with rapid turnaround times. Our Helios 5 DualBeam provides excellent resolution for enhanced measurement and visualization – with specialized features particularly beneficial to clients characterizing devices or complex nanostructures. Our Scios DualBeam has comparable ultra-high resolution with immense adaptability to accommodate challenging materials: including samples previously untenable on an electron microscope.