Operando measurement of Li ion battery positive electrode in charge/discharge process
Click below to download this Application Note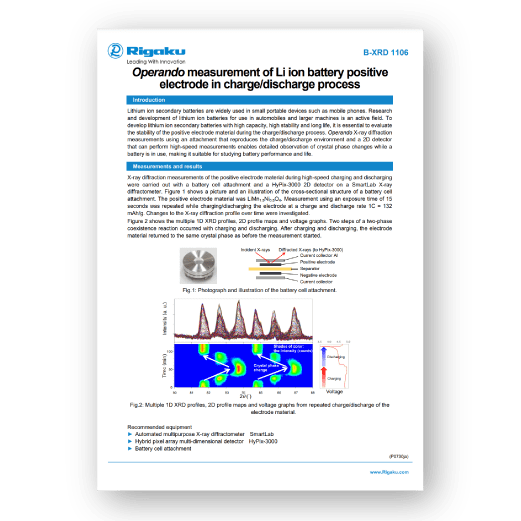 Lithium ion secondary batteries are widely used in small portable devices such as mobile phones. Research and development of lithium ion batteries for use in automobiles and larger machines is an active field. To develop lithium ion secondary batteries with high capacity, high stability and long life, it is essential to evaluate the stability of the positive electrode material during the charge/discharge process. Operando X-ray diffraction measurements using an attachment that reproduces the charge/discharge environment and a 2D detector that can perform high-speed measurements enables detailed observation of crystal phase changes while a battery is in use, making it suitable for studying battery performance and life.
About Covalent Metrology
Covalent Metrology is a disruptive analytical services laboratory and platform based in Sunnyvale, California. Its mission is to help companies who use advanced materials to get better data and insights more easily and affordably to facilitate faster development and production. Covalent is dramatically changing the characterization and imaging landscape by combining transparent pricing, data platforms, and top-notch customer service with world-class scientists, state-of-art tools, and strategic partnerships.
Covalent now has over 500 customers in 30+ industries.
Learn more at: https://covalentmetrology.com