Attenuated Total Reflectance Fourier Transform Infrared Spectroscopy (ATR-FTIR)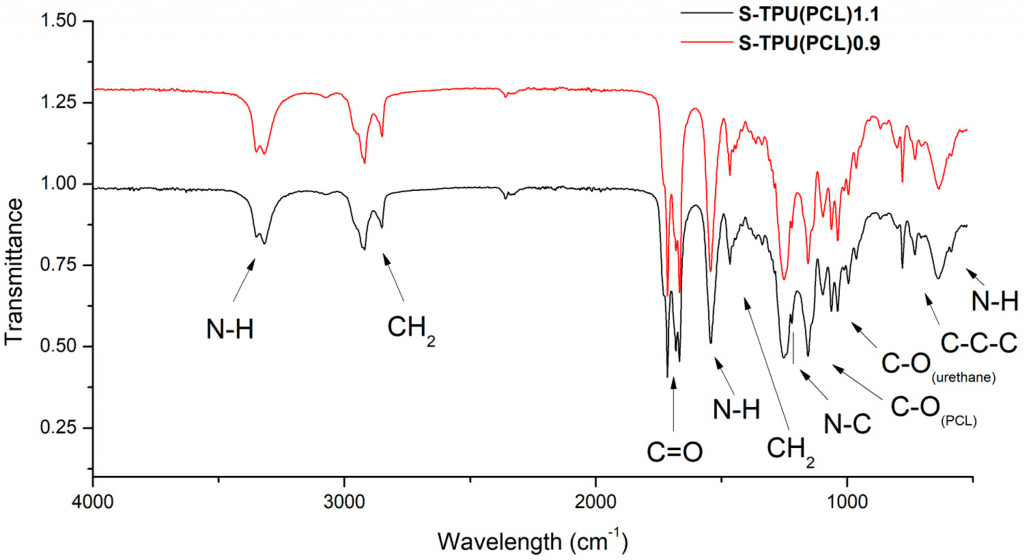 Sample reference ATR-FTIR spectrum comparing 2 variations of a synthesized thermoplastic polyurethane (S-TPU) generated for use in 3D printed biomedical devices.
Attenuated-total-reflectance (ATR) is a sampling mode which enhances the Fourier Transformed Infrared Spectroscopy (FTIR) signal obtained from sample surfaces, increasing sensitivity and allowing efficient measurements with minimal sample preparation. Like standard FTIR measurements, ATR-FTIR is used for chemical qualification of a sample from raw optical spectra and is often used to determine organic composition.
Strengths
Provides fingerprint identification of functional groups and compounds
Extensive reference libraries and standardized quality testing procedures are available to aid data interpretation
Capable of analyzing solid, liquid or powder samples
Limitations
Most inorganic materials do not exhibit FTIR spectrum
(carbonates, nitrates, silicates, sulfates DO exhibit FTIR spectra)
Samples must not be too transmissive (some glasses) or too reflective (some metals)
Learn More