Failure Analysis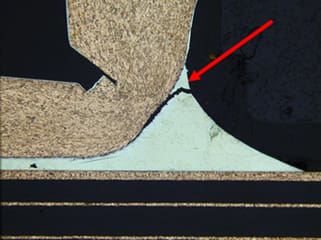 Devices and components can fail to operate properly for many reasons. Accurately determining root causes of these failures requires extensive experience, keen attention to detail and access to a range of analytical techniques.
Covalent Metrology's Failure Analysis (FA) team brings more than 100 years of collective experience identifying failure mechanisms for a range of modern devices. In 2020, we acquired the business and integrated the team from Riga Analytical, a highly regarded failure analysis lab founded by Giorgio Riga in 1982. Combining the experienced Riga team with the full suite of advanced analytical techniques and expertise at Covalent has dramatically expanded our FA service offering. Our FA expertise covers a wide range of products, including chips, PC boards and many types of advanced componentry used in medical devices, semiconductor manufacturing, displays and consumer electronics, to name a few.
Whether you are the manufacturer or the user of devices that are not working properly, Covalent Metrology is fully equipped to help.
Contact Us
Failure Analysis Services: