Attenuated Total Reflectance (ATR)
$99 Base price
View My Quote Request
Focused Ion Beam Scanning Electron Microscopy (FIB-SEM)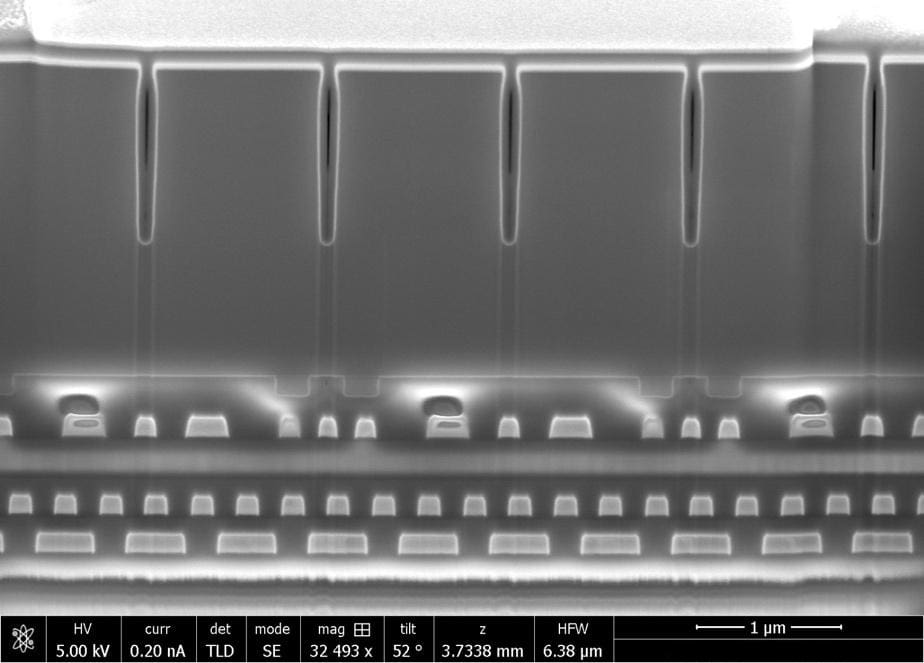 FIB-SEM cross-section of a pixel array, showing underlying nm-scale device features
Like other high-resolution scanning electron microscopes, Focused-ion-beam scanning electron microscopes (FIB-SEMs) are used to produce 2D and 3D images of surface topography, and are able to resolve nm-scale features on a sample surface.
The FIB allows advanced analytical workflows such as: cross-section, tomography, lithography, lamella prep, and many others.
Ultra-high resolution imaging capabilities (limit resolution is < 1 nm)
Able to image multi-modal, sub-surface, and 3D information
FIB enables precise manipulation of sample in-situ: cutting, cleaving, trenching, exposing, and ion-welding of different fragments on the sample for imaging and analysis
Analysis is destructive
Insulating materials impair precision of ion beam action and reduce imaging resolution
Technical Specifications:4>
Learn More:4>
Instruments Used for FIB-SEM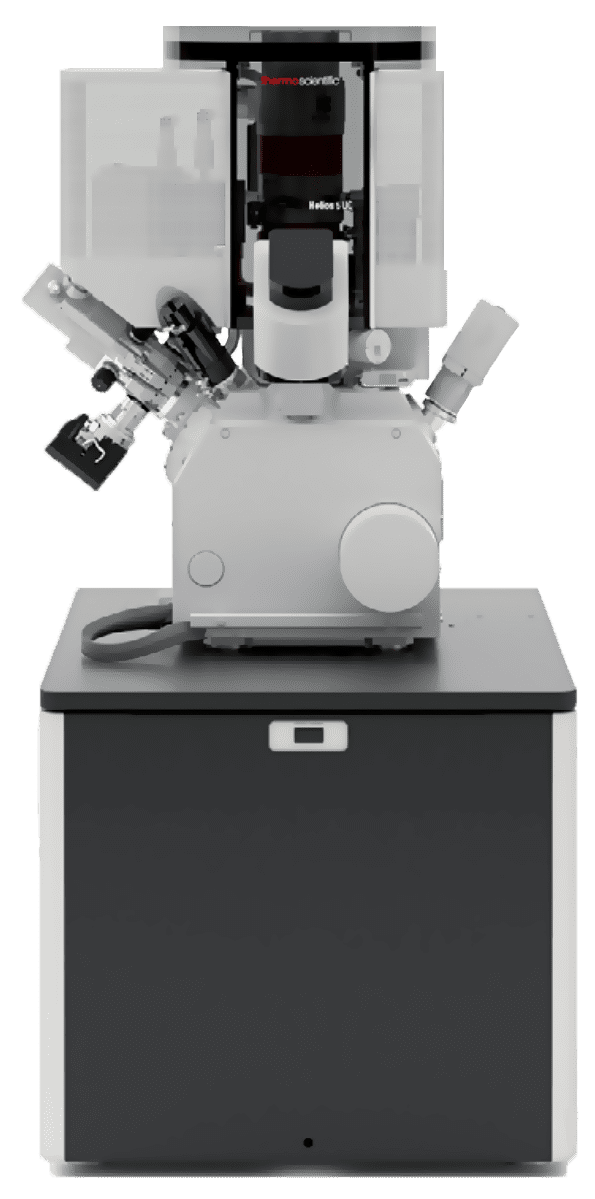 Thermo Scientific Helios 5 DualBeam
Maximum Horizontal Field Width: 2.3 mm at 4 mm WD
Electron Beam:

Resolution Limit: 0.7 nm at 1 kV
Current Range: 0.8 pA to 100 nA
Accelerating Voltage Range: 350 V to 30 kV

Ion Beam:
Electron Beam:

Resolution Limit: 4.0 nm at 30 kV using preferred statistical method
Current Range: 1 pA to 100 nA
Accelerating Voltage Range: 500 V to 30kV
Thermo Scientific Scios DualBeam
Optimized to achieve best performance across a wide array of sample types.
Powerful charge neutralization
Enables analysis on magnetic samples
Able to operate above vacuum pressure
On a FIB-SEM, the added focused-ion-beam allows for in situ sample manipulation. Normally the FIB beam is used to cross-section the sample at a precise location, but it can accomplish many other tasks such as: tomography, lithography, lamella prep, and more.
The imaging capabilities of the scanning-electron-beam in a FIB-SEM work as they do in any other SEM: the system generates an image by detecting electrons scattered by a highly-focused, high-energy applied electron beam as it is raster-scanned over the surface of a sample.
The secondary focused-ion-beam is comprised of high-energy, charged atoms (most commonly Ga+). When applied to the sample, the FIB can be tuned to either ablate material from the surface, or deposit atoms of an accompanying neutral gas.
Additionally, both in-house FIB-SEM instruments at Covalent also incorporate energy dispersive spectroscopy (EDS) detectors that enable measurement and mapping of elemental composition alongside all other FIB-SEM operations.
✕
Comparison link sent successfully
✕
Please use valid email address
✕
You need to have at least 2 techniques to compare
✕
You can select maximum 5 techniques
No data found