Attenuated Total Reflectance (ATR)
$99 Base price
View My Quote Request
Nanomechanical Wear-Box Test (Nano-wear)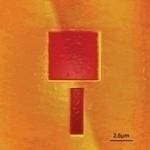 Wear Image captured of 2 different wear volumes measured using distinct wear profile methods in LaO coating
Nanomechanical wear testing (nano-wear box) is a nanomechanical testing mode – similar to nano-indent and nano-scratch analysis – used to evaluate wear resistance and other mechanical properties at sub-micron scales.
Highly flexible and customizable wearing modes
Optimized to test durability for films down to 1 nm in thickness
Efficient data collection
Minimal sample preparation
Destructive
Not well suited to very-soft sample materials
Ultra-thin layers (less than 100 nm thick) require method development to set optimum force and tip conditions
Technical Specifications:4> Learn More:4>
Technique Variants
Pricing Starts At
Action
Nanomechanical Wear-Box Test (Nano-wear)
$700 / Sample
Nanomechanical Wear-Box: Thin Film < 100nm Thick
$1050 / Sample
Instruments Used for Nano-wear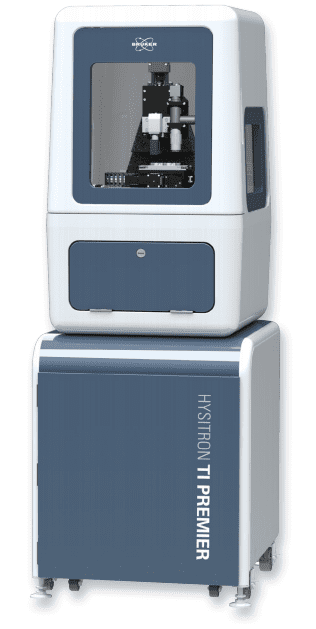 Bruker Hysitron TI Premier
Normal Load Range: 75 nN to 10 mN
Normal Displacement Range: 0.2 nm to 5 µm
High-resolution SPM imaging
Positioning Accuracy: ±10 nm
Force Noise Floor: 75 nN
Displacement Noise Floor: 0.2 nm
Nanomechanical wear-box testing evaluates numerous mechanical response properties and resistance to both linear and nonlinear processes associated with deformation and sample damage under sustained, iterated, or dynamic forces.
For nanomechanical wear testing, the sample surface is subjected to a raster-scanned user specified force applied with an indenter tip. The scan can involve one, or many passes over the same area, with customizable displacement, static- and dynamic load behavior, and raster properties.
After the wear test has executed, optical profilometry using Laser Scanning Confocal Microscopy (LSCM) is performed to image and characterize the damage pattern throughout the analyzed volume (the "wear box").
The resulting images and measurements, along with metrics of the applied force on the probe, its displacement, and ambient environmental conditions, are all used to analyze the mechanical wear resistance of the sample.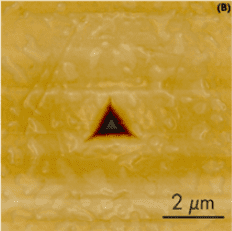 In Material Testing
Base Price: $300 / Sample
Nanoindentation is a quasi-static mode of nanomechanical analysis used to measure hardness and reduced elastic modulus of solid...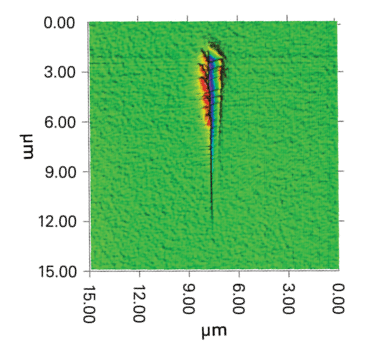 In Material Testing
Base Price: $450 / Sample
Nanomechanical scratch testing (nano-scratch) is an alternate nanomechanical testing mode to nano-indent or nano-wear box testing, which is...
✕
Comparison link sent successfully
✕
Please use valid email address
✕
You need to have at least 2 techniques to compare
✕
You can select maximum 5 techniques
No data found