Attenuated Total Reflectance (ATR)
$99 Base price
View My Quote Request
Scanning Acoustic Microscopy (SAM)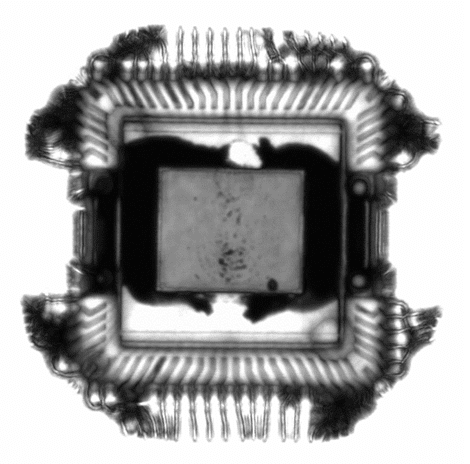 High resolution, dynamic through-scan image of microelectronic chip, produced with dual autofocusing transducer array. Delamination / voids are indicated by dark contrast
Scanning Acoustic Microscopy (SAM) is a non-destructive and non-invasive imaging technique which uses ultrasound signals to visualize the internal structures of a sample.
High penetration depth enables visualization of underlying and internal structures
Able to characterize buried topographies which are difficult or impossible to resolve with other microscopy techniques
Non-destructive analysis, however sample will get wet
Slower processing time than micro-CT
Reduced spatial resolution compared to electron microscopy techniques
Technical Specifications:4>
Learn More:4>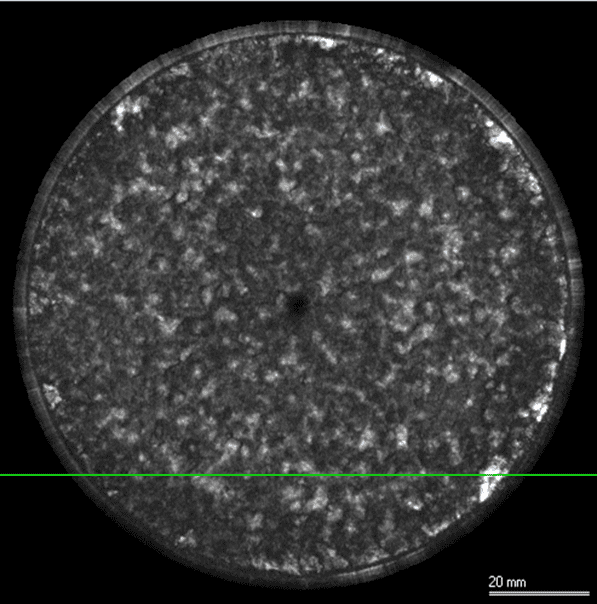 C-Scan performed on Cu disc. Identified solder delamination via bright spots (indicating voids) around the outer ring of the disk
From: PVA TePla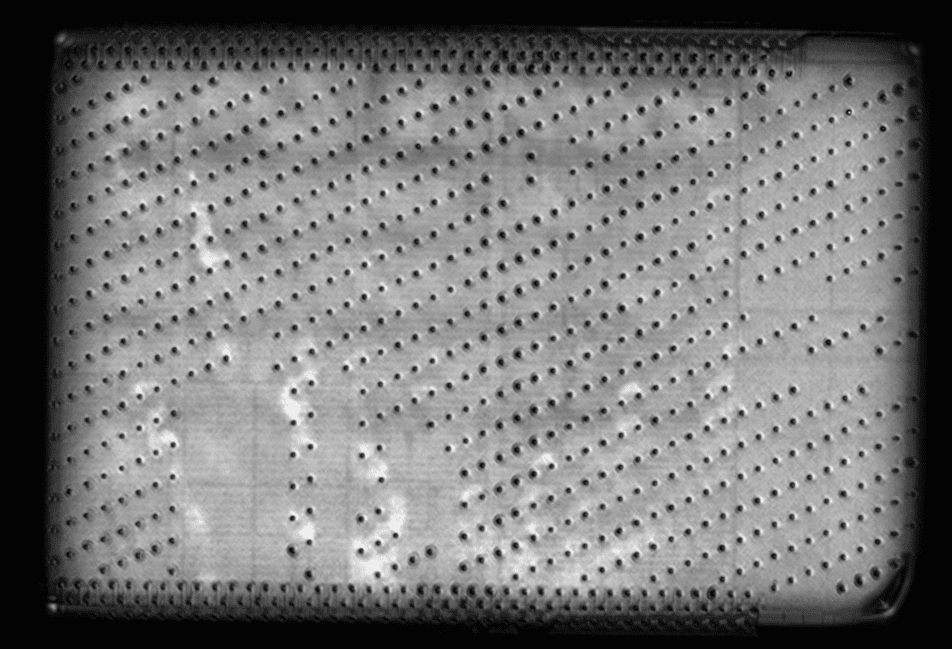 C-Scan collected on a die bump pad using analog pre-processing of radio-frequency data with HILBERT signal integration conducted in real time during scan. This unique capability facilitates improved signal-to-noise ratio and sharper contrast.
From: PVA TePla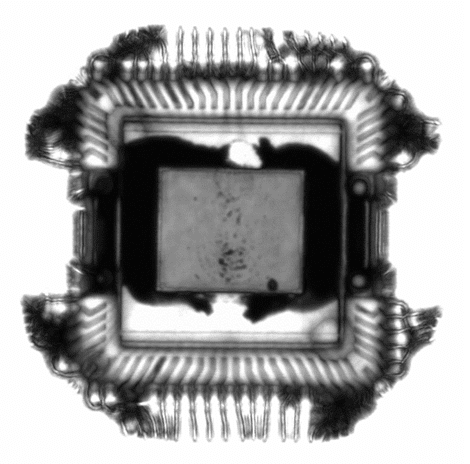 High resolution, dynamic through-scan image of microelectronic chip, produced with dual autofocusing transducer array. Delamination / voids are indicated by dark contrast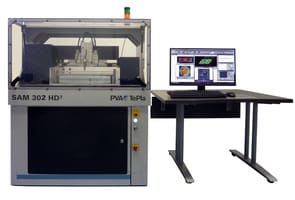 PVA TePla SAM 302 HD2
Frequency Range: 400 MHz
Lateral Scan Range: 200 mm x 200 mm
Vertical Scan Range: up to 320 mm
Minimum Pixel Size: 0.5 µm
Delamination Detectability: 0.2 µm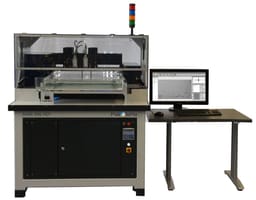 PVA TePla SAM 502 HD2
Frequency Range: 400 MHz
Lateral Scan Range: 200 mm x 200-500 mm
Vertical Scan Range: up to 500 mm
Minimum Pixel Size: 0.5 µm
Delamination Detectability: 0.2 µm
Solid phase required
Samples must be structurally and chemically stable in deionized water
Irregular shapes and many-layered materials impair resolution, especially when materials are soft, porous, or very rough (impaired sound scattering consistency)
Max sample dimensions: 670 mm x 560 mm x 70 mm
The working principle of SAM relies on the detection of how acoustic waves interact with material interfaces. The two primary modes of detection are reflection and transmission.
In a routine measurement, a sample is submerged in a coupling media (i.e. water) and subjected to high frequency acoustic waves generated by a piezoelectric transducer. The resulting echoes due to acoustic impedance (Z) contrast at the material interfaces are then analyzed to produce images.
The lateral resolution is dependent on the frequency of the transducer and the speed of sound through the material. Higher frequency transducers offer higher resolution, but do not penetrate far for thick samples.
Covalent provides acoustic microscopy services on PVA TePla's premium-line of SAM instruments with an array of two independently autofocusing and signal-balancing transducers to achieve the highest possible resolution and contrast in acoustic images.
✕
Comparison link sent successfully
✕
Please use valid email address
✕
You need to have at least 2 techniques to compare
✕
You can select maximum 5 techniques
No data found