Attenuated Total Reflectance (ATR)
$99 Base price
View My Quote Request
Spectral Ellipsometry (SE)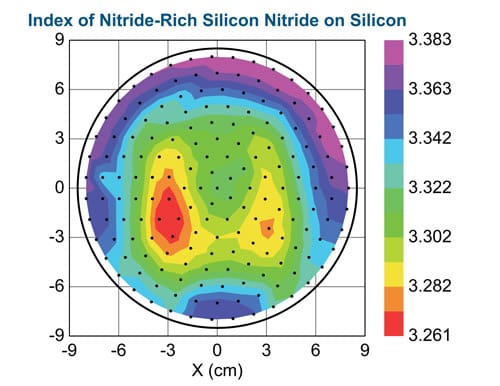 Index of refraction mapped across nitride-rich SiNx film on a silicon wafer substrate
Spectral ellipsometry (SE) – also called "Spectroscopic Ellipsometry" – is a non-contact, non-destructive optical characterization technique which can be used to assay numerous physical, optical, and topographical properties simultaneously and indirectly.
Using advanced modeling techniques to augment raw polarization state data, SE can richly characterize thin films, transparent materials, and semi-opaque layers.
Data collection is generally quick and straightforward
Precise and reproducible
Very sensitive to ultra-thin films (single angstroms thick)
Measured region on sample must be smooth and flat
Complex modeling required to access most indirect properties – often requires extensive expertise to avoid analytical pitfalls
Analysis of multi-layered samples sometimes requires fabrication of intermediate test samples with fewer layers in order to uniquely determine the properties of all layers present
Technical Specifications:4>
Learn More:4>
Technique Variants
Pricing Starts At
Action
Spectral Ellipsometry (SE)
$125 / Sample
Spectral Ellipsometry: Mapping (10-Points)
$275 / Sample
Spectral Ellipsometry: Variable Angle (Single-Point)
$150 / Angle
Spectral Ellipsometry: IR 1.7 - 30 microns
Spectral Ellipsometry: UV 140-1700 nm
Spectral Ellipsometry: Imaging
Spectral Ellipsometry: Model Development
Spectral Ellipsometry: Model Application Analysis
$200 / Spectrum
Spectral Ellipsometry: Optical Band Gap Measurement
$600 / Sample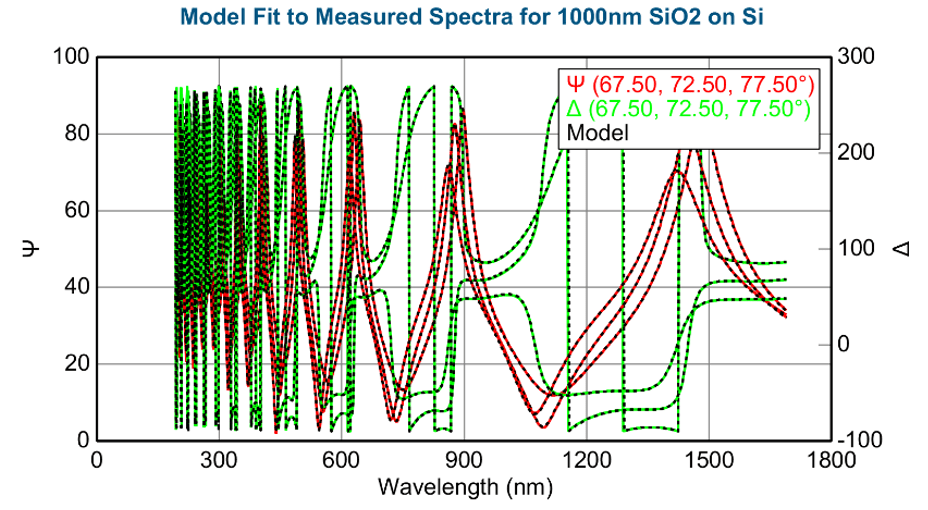 1000 nm SiO2 on Si spectroscopic ellipsometry raw data and model fit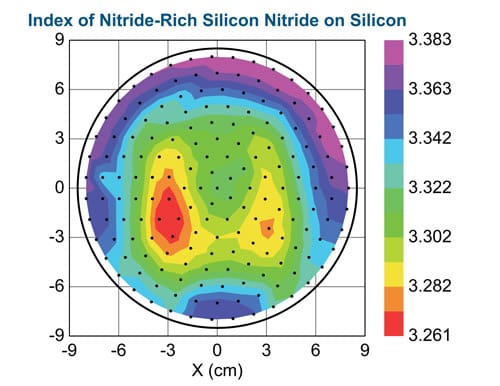 Index of refraction mapped across nitride-rich SiNx film on a silicon wafer substrate
Thickness map of a resist coating on silicon wafer substrate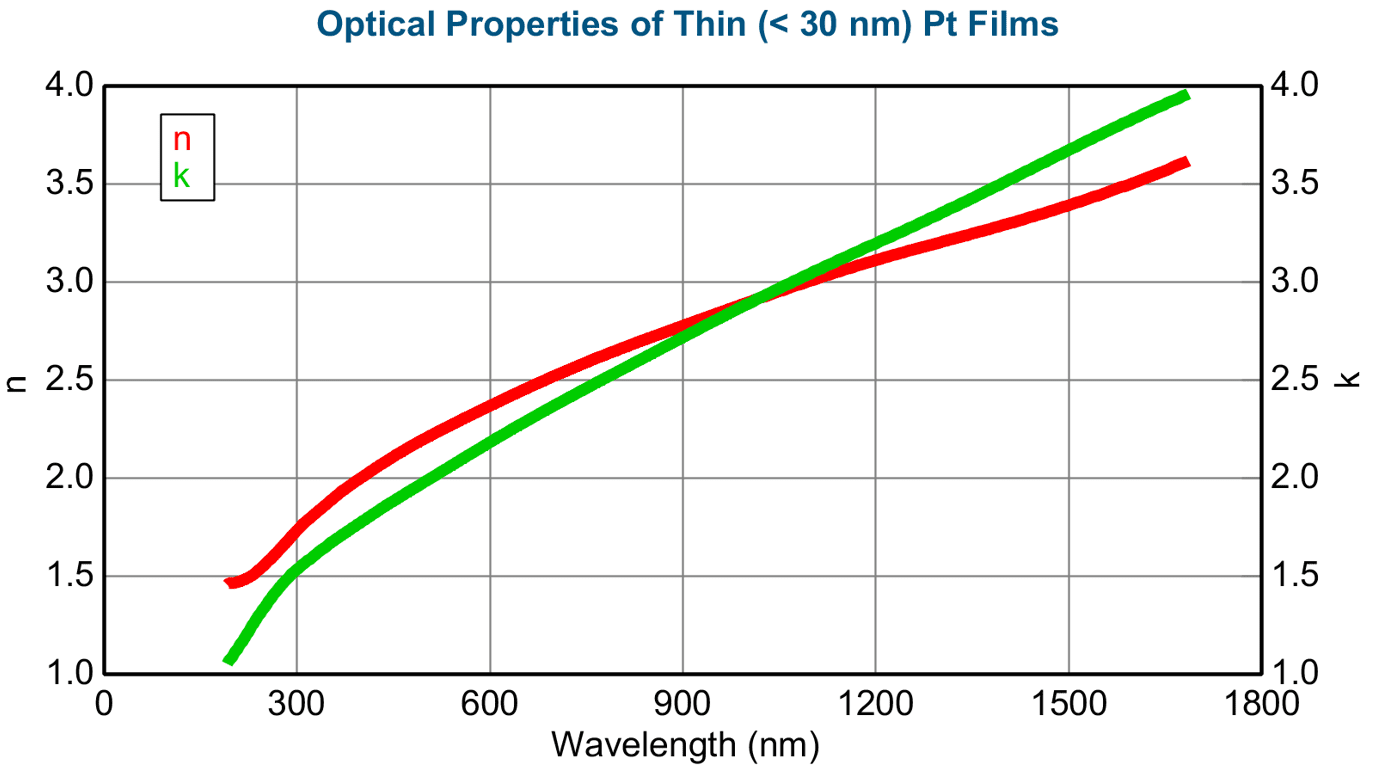 Example optical properties for partially transparent (< 30 nm) Pt thin films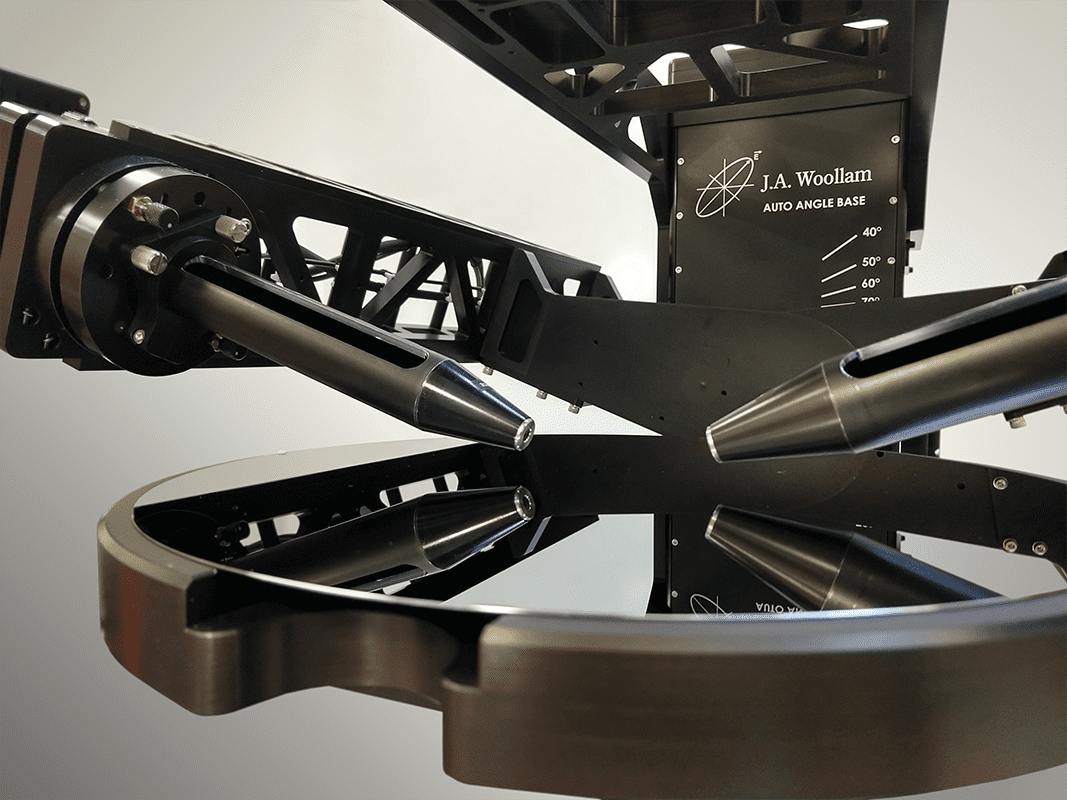 J.A. Woollam RC2-DI
Spectral Range: 193 to 1690 nm (0.73 to 6.42 eV; 1075 total wavelength bands)
Dual-rotating compensator configuration (PCR­SCRA configuration)
Automated mapping up to 300 mm substrates w/ fully customizable X-Y resolution and scan pattern
Measurement Beam Diameter: 5 mm (standard); or 300 µm (focused)
Full Muller matrix measurement capability
Variable-angle transmission stage (45° – 90° angle-of-incidence range)
In an SE system, a beam of set wavelength and known initial polarization state is either reflected by (or transmitted through) the sample to be measured.
A detector measures the changes to the beam's polarization state vectors induced by interactions with the sample. This produces a raw data set capturing polarization at each measured wavelength; however, this is almost always the starting point of analysis.
In order to determine many properties of interest, Advanced Modeling is required. This involves computationally fitting thickness and optical properties of layers in the sample to the raw spectra, enabling indirect determination of these material attributes, and numerous other more abstract characteristics (such as: surface roughness, interfacial layers, diffusion profiles, composition, crystallinity, and more).
✕
Comparison link sent successfully
✕
Please use valid email address
✕
You need to have at least 2 techniques to compare
✕
You can select maximum 5 techniques
No data found