Capillary Flow Porometry (Porometry)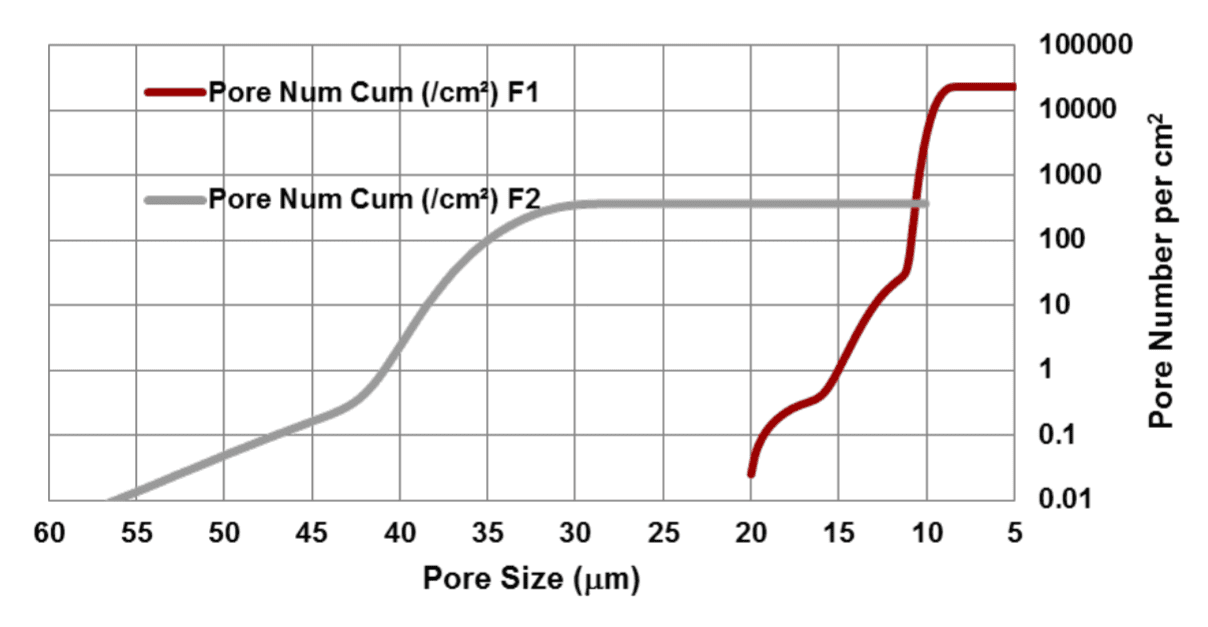 Example Pore Size Distribution for two samples, 'F1' (red), and 'F2' (gray). The calculated cumulative number of pores per unit cm2 is plotted as a function of Pore Size in microns. Sample F1 shows a higher proportion of pores with size < 10 μm, and Sample F2 shows a broader distribution of pore sizes (from 10 to 55 μm) as well as a greater total porosity.
Capillary Flow Porometry (also called Porometry) is an optimal technique for characterizing through-pore size and size distribution in wettable materials, such as membranes, filtration media, ceramics, and papers.
Covalent's Porometry services use a top-of-line porometer from Anton Paar for maximized flexibility, speed, and reproducibility.
See Also: Gas Adsorption Analysis for non-permeable solids
Strengths
Fast time-to-data: rapid pore for through-pores in membranes, filters, and other permeable materials
Highly reproducible, accurate pore size distribution
Limitations
Not optimized for nano-scale pore analysis
Analyzed pores must be open (have direct or indirect access to sample surface)
Learn More