Dynamic Mechanical Analysis (DMA)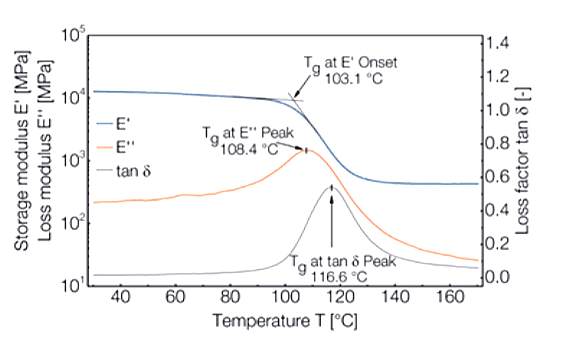 DMA curves used to measure glass transition temperature (Tg) in CFRP polymeric composites using 3 different metrics: Storage modulus, Loss modulus, and Temperature. Broadening of the range of measured Tg values (as shown in this sample) can be indicative of polymer crosslinking.
Dynamical mechanical analysis (DMA) is used to study changes in the mechanical properties of a material under periodic stress as the temperature is varied. DMA results are used to assess: glass transitions, melting points, elastic modulus, strain-to-break, toughness, creep, and numerous other thermal and mechanical properties.
Strengths
Ultra-high sensitivity to deformation and displacement
Improved detection threshold for thermal transitions (vs. Differential Scanning Calorimetry)
High flexibility in experiment design
Rapid and straightforward data collection
Particularly well-suited for high-stiffness polymers
Limitations
Data quality is impaired by rough, asymmetric, and irregularly-shaped samples
Analysis is destructive
Learn More