Transmission Electron Microscopy (TEM)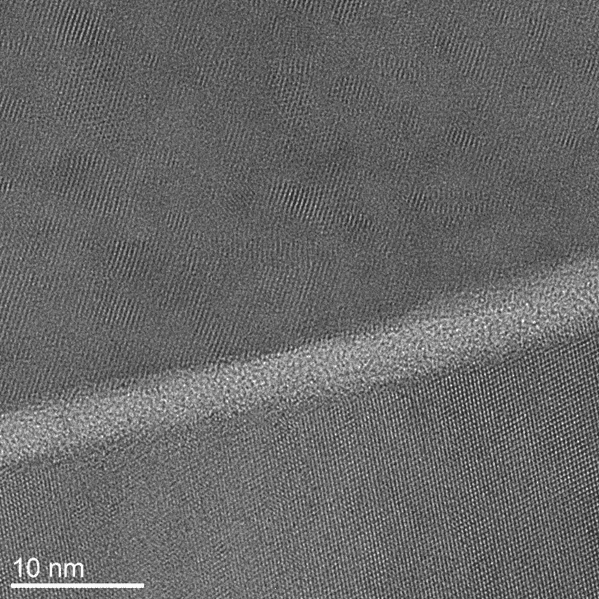 This TEM micrograph shows the same interface as above, captured at 410kx magnification. At this level of magnification, it is possible to see individual columns of atoms in within the crystalline domains of the materials.
Transmission electron microscopy (TEM) is the highest-resolution imaging technique available today. It is used to visualize sample features with atomic-level spatial resolution limits to characterize the morphology of complex nanostructures.
"These are incredible images. Thanks for the preview.
It is so satisfying to get definitive answers to our questions!"
– Brad Aitchison, Sr. Process Engineer, Redlen Technologies
Strengths
Highest possible spatial resolution: limit is atomic-scale
Bright Field and Dark Field imaging
Distinct imaging modes allow isolation of certain types of contrast information
Compatible with chemical (EDS) analysis and electrochemical analysis (EELS) techniques
Tomography and 3D reconstruction
Limitations
Requires extensive sample prep (normally performed with a FIB-SEM)
Specimens can be damaged if low dose techniques are not employed
Minimal topographical sensitivity
Typically only able to image a very small portion of the sample
Learn More