Ultraviolet Photoelectron Spectroscopy (UPS)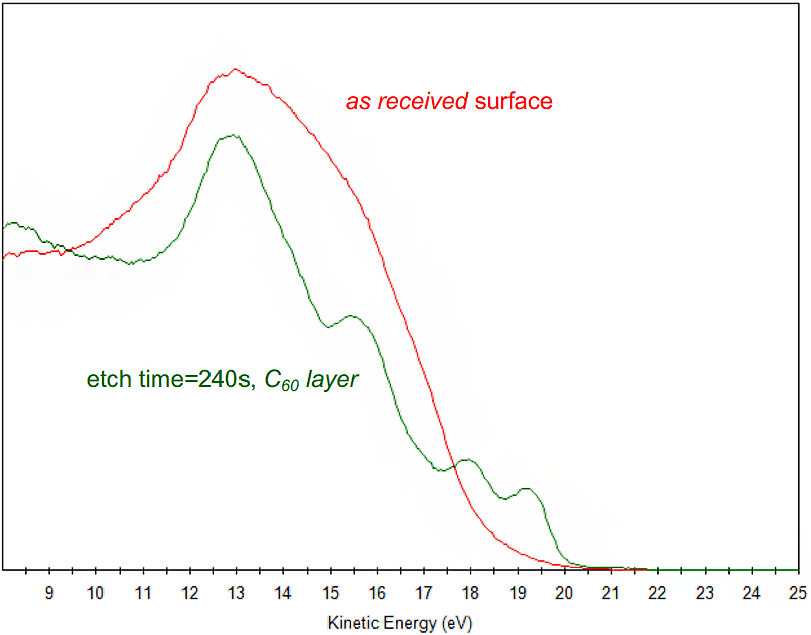 He(I) UPS spectra from 10 nm fullerene (C60) film on CaF2 substrate before any surface cleaning (by ion cluster etch), and after initial surface cleaning. As received, the sample showed overlaying amorphous carbon contamination that obscured measurement of the C60 film.
Ultraviolet photoelectron spectroscopy (UPS) is often performed with X-ray Photoelectron Spectroscopy (XPS), a powerful surface chemical characterization technique. Unique to UPS, its selective low-energy signal photoelectrons enable specific measurement of valence-band properties, as well as the electronic work function of the surface.
Strengths
Very high surface specificity: information depth 2-4 nm
Highly accurate spectral fingerprinting
Selective valence-band signal: bonding orbital properties
Reliable work function measurements possible
Limitations
UPS peaks are not used for elemental quantification: degree of hybridization and extent of BE-shift is too substantial
Robust density of electronic states / orbital occupancy typically requires Advanced Modeling
Work function measurement requires careful setup to isolate sample low-KE cutoff from detector behavior
Learn More