Zeta Potential (Zeta)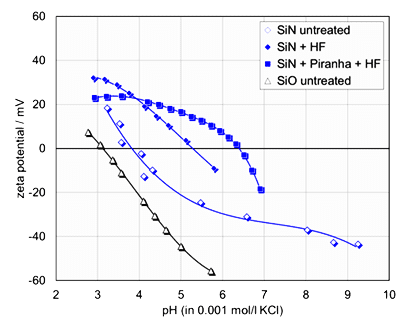 Surface zeta potential of SiN wafers after cleaning by hydrofluoric acid, displayed as a function of pH.
Zeta potential measures the strength of net charge on particle and solid surfaces. The higher the magnitude of this potential, the stronger the surface interactions (repulsion and/or attraction) will be when the sample contacts other charged materials.
Strengths
ELS zeta potential is highly sensitive, with ~ 100x the detection threshold of streaming potential measurement for macroscopic solids
Rapid and straightforward data collection
Numerous sample cells available to customize method for diverse sample types
Limitations
Accurate Zeta Potential measurement in solid samples requires exact dimensions for the sample and capillary channel cross section
Zeta potential is only present when a material contacts a liquid
Learn More