Scanning Transmission Electron Microscopy (STEM)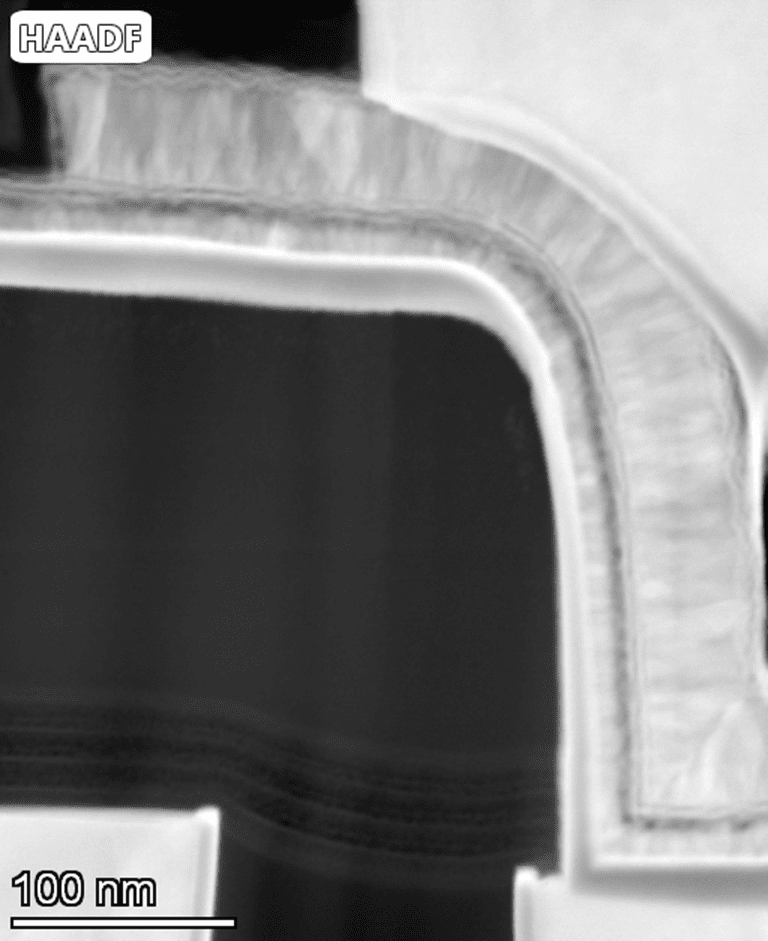 HAADF (High-Angle Annular Dark Field) STEM image of a MiM (Metal – Insulator – Metal) capacitor structure within an integrated circuit.
Scanning transmission electron microscopy (STEM) is a hybrid electron microscopy technique used for imaging and morphological characterization with atomic-scale resolution.
STEM is available on both Covalent's FIB-SEM  instruments, as well as our TEM. All Covalent (S)TEM systems have fully integrated energy-dispersive x-ray spectrometers (EDS or EDX) for correlative elemental composition and mapping analysis.
Strengths
Atomic-level resolution limit – substantially improved over conventional SEM
Enables spatial correlation of advanced TEM signals:

Energy-dispersive X-ray Spectroscopy (EDS / EDX): elemental composition and mapping
Electron Energy Loss Spectroscopy (EELS): bonding state and light element analysis with some electrochemical insights
High-Angle Annular BF, and DF scattered beams (HAABF / HAADF): standard ultra-high-resolution imaging with additional atomic-number contrast for mapping applications
Kikuchi Bands: crystallographic analysis for electron diffraction patterns
Limitations
Requires extensive sample preparation to generate a thin-enough analytical window for the material to be electron-transmissive
High-energy, the highly-focused electron beam can cause sample damage
Learn More