Mechanical Cross-Section Analysis (X-Section)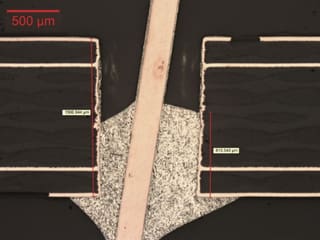 Through-Pin solder joint showing hole-fill is <75%, which is a defect per IPC-A-610G, section 7.3.5.1.
Mechanical cross-section analysis enables one to expose buried features on a sample in a controlled fashion. It is regularly used in IPC compliance testing, to assay critical dimensions, or to identify miscellaneous structural defects or abnormalities such as cracks, bridging, delamination, deformations, and more.
Covalent Metrology's technical staff have over 30 years of experience in the preparation and measurement of sample cross-sections. In addition, our team is certified to conduct IPC-qualified cross-sectional procedures for PCB failure analysis and quality control.
Strengths
High-resolution structural analysis for internal features of components, assemblies, and substrates
Can be combined with EDS / EDX for elemental mapping
Robust documentation and compliance standards available
Limitations
Destructive analysis
Multiple cross-sectional samples are required to evaluate all pins on most electronic components / PCBs
Technique is highly manual and extensive expertise is required to properly prepare samples. Improperly prepared samples can produce misleading artifacts
Learn More